Pastor Information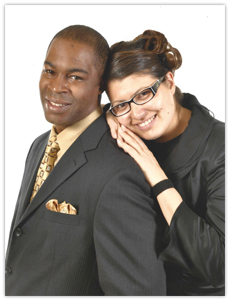 Pastor Marlon Alexander received Salvation as a teenager.  His wife Cheryl Alexander was a Sunday School bus ministry student and in her young adulthood made up her mind to live for Jesus.  As young people in the church they were committed servants under the pastoral leadership of Dr. T.B. Neil.  They served for 20 years on the local ministry team at The Tabernacle of Praise Church in Fort McMurray, Alberta, teaching Sunday School, directing youth ministry, evangelizing local areas, leading special events, fundraising and preaching the Word of God.
In August of 2016, Bishop Dr. T.B. Neil passed the Mantle of Pastorate to the Alexander's in a Special Service officiated by Reverend Alonzo Terry.  With a heart to serve the Lord they gladly accepted this new calling and are honoured to be called the Pastor and First Lady of Tabernacle of Praise Church.
Graduates from Genesis Institute of Theology, Fort McMurray, Alberta, Pastor Alexander received a Diploma of Theology, and Cheryl Alexander received a Masters Degree in Theocentric Counseling.  They are the proud parents of their son Caleb and two daughters, Onestie and Mikendra.
Marlon and Cheryl have a burning desire to see our youth, families, communities and the world come to know the freedom, joy, deliverance and the transformative life changing power that they have found living for Jesus Christ.  Together they will continue the work that God has started through Bishop Dr. T.B. Neil in Fort McMurray, Alberta, Canada.
Our Roots
Acts 2:38-39 KJV
Then Peter said unto them, Repent, and be baptized every one of you in the name of Jesus Christ for the remission of sins, and ye shall receive the gift of the Holy Ghost.
For the promise is unto you, and to your children, and to all that are afar off, even as many as the Lord our God shall call.
Study Downloads